The Gist
Want to experience something truly unique and utterly delicious? Look no further than the busy streets, misty mountains, blooming cherry blossoms, and abundant beaches of 2018's top travel destination: South Korea!
Join Cheema and an intrepid group of like-minded foodies for 8 nights and 9 days of adventurous gastronomy, as we search out every scrumptious delicacy that this exotic peninsula has to offer. This trip is not for the faint of heart! Korea is known for having spicy and pungent dishes, such as kimchi and tteokbokki.
Over the course of the trip, you will have mastered at least five Korean specialties including gochujang (traditional red pepper paste) and makgeolli (rice wine) with the best and most notable Korean chefs/cooks, including Monk Jeong Kwan from the Netflix original show, "Chef's Table" all while experiencing cherry blossom season.
On this trip, you won't just visit South Korea, you will be fully immersed in Korean culture. You'll get to experience the absolute best of the country: historic palaces, traditional villages, relaxing and indulgent saunas, and more. You'll experience the bustling capitol city Seoul, food history-packed Jeonju, mountainous Baekyangsa, and the seafood lover's haven Busan.
This guided trip is all-inclusive and there are no supplementary fees whatsoever.
Rani Cheema; Founder of Cheema's Travel.
"My goal isn't to visit as many countries as possible, but to truly understand the place I'm visiting and the people that I meet... also, to eat anything and everything. I tend to base my adventures on the things I want to eat rather than the sites I want to see."
Itinerary
*This trip is subject to adjust based on the chefs and weather
April 13
Arrival day. We'll check into our hotel, freshen up, then hit the ground running with a feast of Korean BBQ, Chimek ChiMaek – chicken and maekju (beer) – , and "Royal" tteokbokki.
IMPORTANT NOTE:
Will need everyone to arrive April 13th before 5:00 pm.
April 14
SEOUL. After slurring up Kalguksu at Namdaemun Market, our first stops will include two historic palaces and a traditional village smack in the middle of the city. Samgaetang (Korean ginseng chicken soup) for lunch, followed by your first cooking class. After enjoying your culinary creations, you'll be delighted by the street food and charming shopping options in Insadong Market before heading back to the hotel for the night.
April 15
SEOUL – JEONJU – BEAKYANGSA. This morning you'll head to Jeonju. Before reaching the town, no Korean road-trip would be complete without experiencing Korean rest stops, trust us. With the array of foods available you won't miss a hotel breakfast. A visit to the Jeonju Hanok Village will pair nicely with our street-food tasting. Gyeonggijeon Shrine will give you a glimpse of the distant past. For lunch, bibimbap, at one of the oldest restaurants in Jeonju. You can digest during the drive to Baekyangsa Temple, the home of Philosopher Chef, Monk Jeong Kwan . After the welcome tea ceremony, we'll be able to hike about the peaceful mountains (weather permitting), and enjoy your first vegan temple meal. You'll have a true temple experience, sleeping in communal rooms.
NOTE: This experience is run solely by the monks.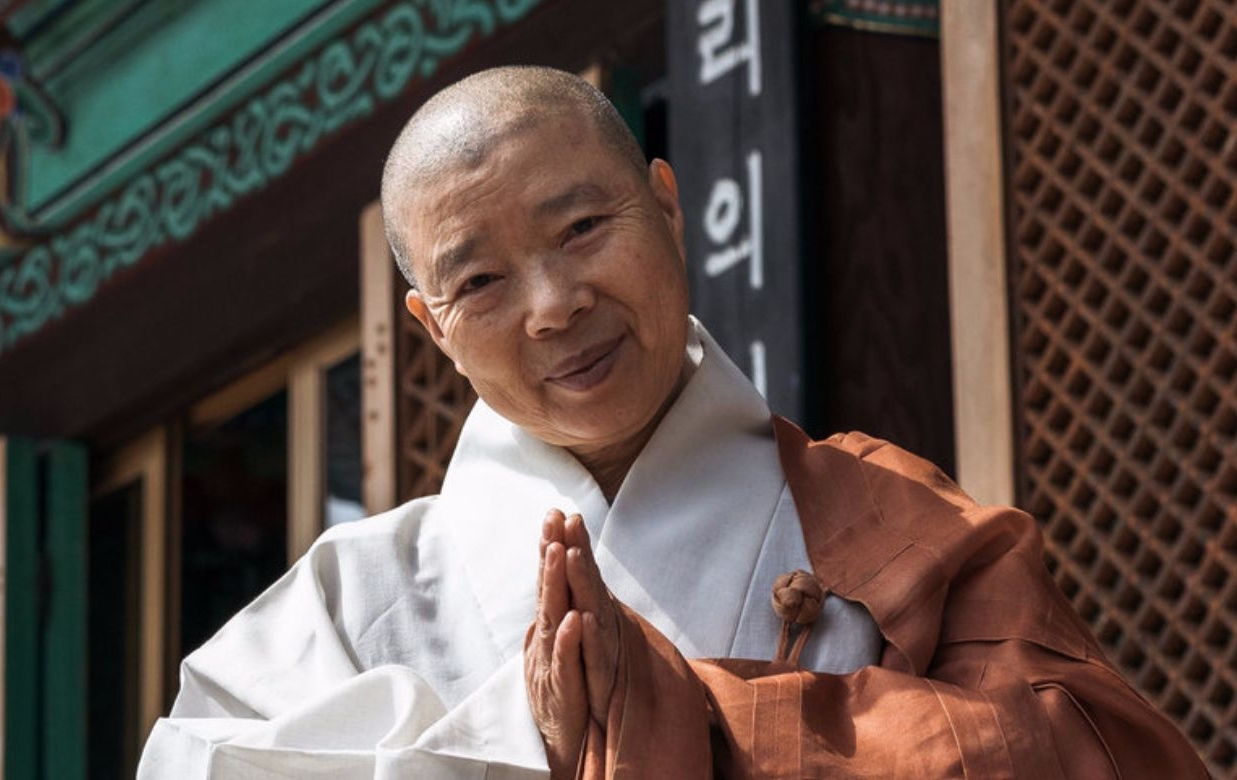 April 16
BAEKYANGSA – BUSAN. Morning prayers start early at the temple. After breakfast comes the hands-on cooking class from Monk Jeong Kwan's kitchen. If you have yet to watch her on Chef's Table, it's a great way to get excited about the trip. For lunch, you'll get to eat the meal you've worked all morning to prepare. We'll bid the monks a fond farewell, and drive over to the port city of Busan. But first, a stop in Sunchang where you'll stretch your cooking muscles again by learning to make gochujang, as well as tteokbokki, at this immersive class experience. Once in Busan, we will check into our hotel where you'll have the rest on the evening to explore or rest. IMPORTANT - Keep the Temple's rules and regulations for the program. Please keep the noble silence during your stay. No smoking, no alcohol. "I take full responsibility and liability for my own health and safety during the participate temple stay program. I agree to abide by all the temple's rules and regulations for the duration of the temple stay."
April 17
BUSAN. We are going to be kind to you and let you have the morning till about 11:00am, then it's time to head over to Shinsegae Centum, the world's largest department store. You might be wondering, "why are we going to a mall"? Listen here, traditional markets are great, but we would be doing ourselves a disservice if we didn't get to experience a Korean Supermarket, trust us. Then, it will be time to drink – but the catch is, you'll be making your own liquor. Everyone will learn to make makgeolli and taste the various versions of this ancient Korean rice wine before eating dinner at the makgeolli studio.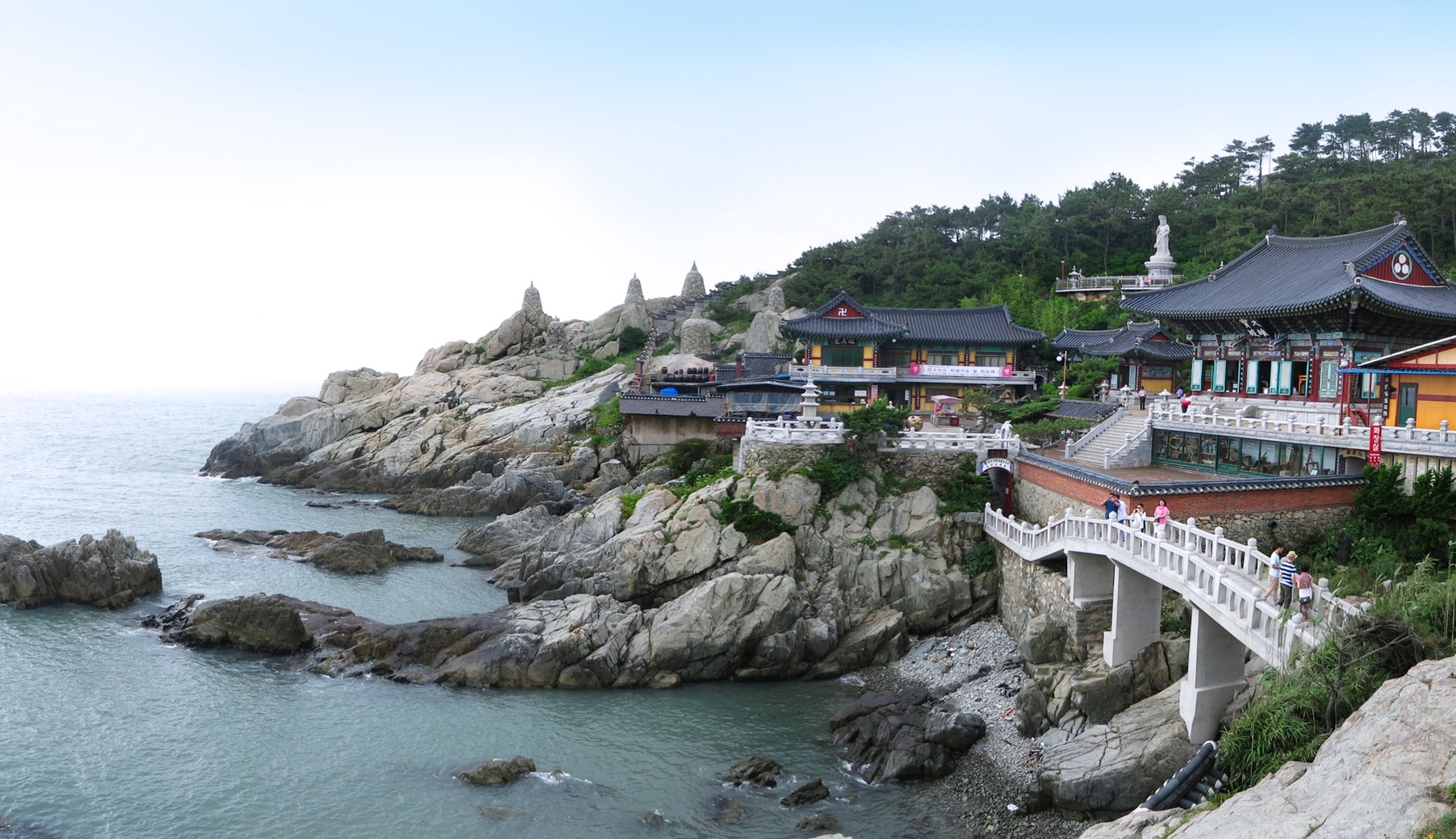 April 18
BUSAN. For a jam-packed day, you'll start it off with a hearty Busan-style pork soup meal. First up will be a stunning coastal temple, followed by the Jagalchi market for a seafood stew lunch. Ggangtong and Gukje's markets present an opportunity to try some Busan-specific street foods that will knock your socks off. Dinner will be at a restaurant specializing in pufferfish dishes.
April 19
BUSAN – SEOUL. After breakfasting at the hotel, you'll head back to the capital via train. The afternoon will be free, but you'll be treated like royalty for dinner. No, really – the evening will feature a court meal from the historic royal table, which can only be found in 10 restaurants in South Korea. The art and flavors of the royal cuisine are from the Joseon Dynasty, preserved in ancient records, and still served just as they were 600 years ago.
April 20
SEOUL. The last full day will be a last chance to do whatever your heart desires on this mostly free day. Relax and be pampered at a traditional Korean spa/sauna, a jjimjilbang. This is a unique and unforgettable experience. Take another cooking class with our friends at O'ngo. Visit the DMZ and get the chance to step into North Korea at the JSA. We will help you arrange your preferred activities before having a life-changing meal at Jungsik, a Michelin-starred restaurant in Seoul's Gangnam district.
Inclusions
Everything on the guided trip is included with no single supplemental fees.
Accommodations (private rooms at hotels and shared spaces in temple)
Land transportation
All meals
All activity fees, tax, and tips
*PLUS*
If you decide to stay an extra day you will receive a complementary "Things To Do" list.
You will also receive 1 complementary trip planning service from us.
(NOT SO FINE PRINT: must use this service that is valued at $300 by March 2019. Service is transferable.)
Exclusions
International airfare. This can be booked for you separately, just let us know.
NOTE: Everyone must arrive April 13th before 5pm. Trip ends at check-out on April 21st.
Incidentals, anything done on free time, and alcohol (except where noted above)
Mandatory Travel Insurance
IMPORTANT: Travelers must have travel insurance prior to departing. If you do not have insurance you will not be able to attend the trip and will not receive a refund.
Important Things to Know
Keep the Temple's rules and regulations for the program. Please keep the noble silence during your stay. No smoking, no alcohol. "I take full responsibility and liability for my own health and safety during the participate temple stay program. I agree to abide by all the temple's rules and regulations for the duration of the temple stay."
This trip is subject to adjust based chefs, classes, and weather.
Sleeping arrangements at temple are traditional, meaning guests will sleep on floor mats.
Passports: A passport valid for a minimum of three months is required by all US citizens.
Arrival & Departure Flexibility: Our culinary adventure starts the evening on April 13th and ends the morning of the 21st. If you choose to extend your stay, please let me know so we can arrange you accommodations.

South Korea is One of the Safest Countries in the World: South Korea has one of the lowest crime rates in the modern world. While its metropolitan areas are not free of petty thieves and drunken brawlers, they remain safe at any hour of the day.

We will be hopping around a lot.
It will be Spring which means it is Yellow Dust season. If you are known for having respiratory issues, we would suggest talking to your doctor beforehand.
FAQ
Aren't you worried about North Korea?
Short answer: No.
Long answer: "We will never guarantee the 100% safety of our trips, even ones to the most neutral of the countries, like Sweden" founder, Rani Cheema says. "I can say that my safety, or the safety of my South Korean friends and American associates (who still live there), have never been of concern nor have had issues with safety in general."
Do I need shots? Everyone is different. Please check the CDC's website but I will say I have never had shots nor will I get any shots for this kind of trip.
Is it safe to eat street food & drink tap? Yes. It is safe to eat food street food in South Korea. Koreans take hygiene very seriously. "I drink tap water without a problem" - Say Rani Cheema, but, again, everyone is different. Bottle water is everywhere if you decide to not drink tap.